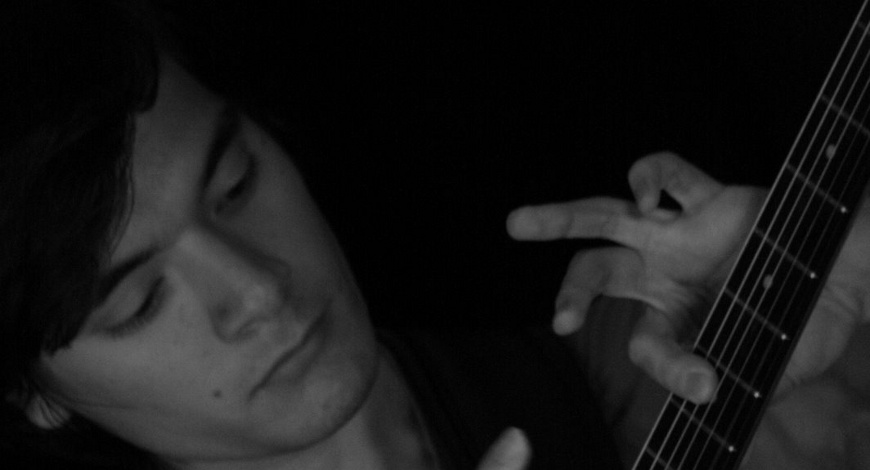 From the windswept rugged coast of Cornwall, UK, James Corachea is an up and coming acoustic guitarist who is among a small handful of those that explore the boundaries of the guitar's techniques. He uses a wide range of techniques to coax a rich sound from the guitar. Everything you hear is played in a single take with no overdubs.
With these various techniques under one's belt it can be a common pitfall with guitarists to make it nothing more than a showy display. However, James sees these techniques as a mere extension to the long established fingerstyle guitar genre and never uses them at the expense of musical value. His music has been repeatedly described by those that listen to it as beautiful and breathtaking. Having the privilege of growing up by the picturesque coast, James' sound is open and organic and often centres on maritime or pastoral themes. The surroundings have so much to give that he can always connect a certain imagery to a piece of music.
James started playing the acoustic guitar seriously after the album Aerial Boundaries by Michael Hedges changed his life. One listen to the then groundbreaking techniques used on the album and he knew the acoustic guitar was the instrument that gave the most fulfilling pleasure to learn and write for. Other large figures among his influences are Andy Mckee, Tommy Emmanuel and Preston Reed.
James Corachea official website
Discover James Corachea Music
Second Life
Avatar: James Corachea (IM)
Group: James Corachea (Join Group)
Second Life Events Coming soon….
Social Networks
James Corachea Links
YouTube Channel
Reverbnation
Myspace
Soundcloud
LastFM
Watch James Corachea Video
Buy James Corachea Music
They talk about James Corachea
VMS Magazine – Issue 1 – March 2012
[issuu viewMode=singlePage width=480 height=320 embedBackground=%23000000 pageNumber=36 backgroundColor=%23222222 documentId=120303151520-670534719d984073a47fcca98098946d name=vms_magazine_issue1 username=wrexanw tag=music unit=px v=2]
---
Created: [created format="M j, Y"]
Last Updated: [modified format="M j, Y"]